I'm currently redesigning my website, meanwhile you can check my work there www.facebook.com/headsplitdesignofficial/
I've worked with bands from all over the world including: Cryptopsy, Whitechapel, Thy Art Is Murder, Six Feet Under, Beyond Creation, Aeon, Pig Destroyer, Mumakil, The Arrs, Psycroptic, Arch Enemy, Benighted, The Faceless, Misery Index, A Night In Texas, Fallujah, The Red Shore, Beneath The Massacre, Spiritual Beggars, Lock Up, Terrorizer, Suicide Silence, Origin, Gorod etc. to name a few.


For commission and custom artworks, hit me up at headsplitdesign@gmail.com
IMPORTANT PLEASE READ CAREFULLY
1) Merch designs and cover artworks on this page are all available for sale.
2) Once a band or someone has purchased a design, it can't be bought anymore.
If it's already sold, when clicking on the BUY NOW button, it will say "TOO LATE! ALREADY SOLD".
3) Paypal is used for all transactions (you can use your credit card, no need to have a paypal account)
4) If you have any questions, email me first : headsplitdesign@gmail.com
5) I'm only selling my designs, I don't sell shirts and I don't print them.
6) Please read my terms & conditions : www.headsplitdesign.fr/terms.htm
and my FAQ : www.headsplitdesign.fr/faq.htm
7) Designs can't be reserved or put "on hold", first come, first served :)
8) If you want more than one design, I will gladly cut you a deal
9) Shirt designs can be resized and used as CD covers if needed for an extra 45 euros.
10) Absolutely NO MODIFICATIONS on these designs except color changes (when possible)
11) Logo will be added ONLY after purchase
12) I do commissioned work of course (that's what I do most of the time)
Contact & Paypal adress : headsplitdesign@gmail.com
13) Prices are subject to change without notice (based on currency exchange)
14) My prices are VERY fair. Please don't haggle, it's insulting and I won't even respond.


PAGE LAST UPDATED SEPTEMBER 24th 2017
SHIRT DESIGNS
Below are some shirt designs available for sale.
I can add your existing logo free of charge.
Files will be sent in photoshop and/or illustrator format.
Design sizes are larger than 30x40cm unless otherwise specified
Shirt designs can be resized and used as CD covers if needed for an extra 45 euros.
Please email me if you have any questions : headsplitdesign@gmail.com
"IMMORTELLE" - 1 color shirt design, AVAILABLE FOR SALE
PRICE :
120 euros
Paypal will take care of it automatically, but you can check here for currency conversion : http://www.xe.com/
"RULER" - 3 color shirt design, AVAILABLE FOR SALE
PRICE :
120 euros
Paypal will take care of it automatically, but you can check here for currency conversion : http://www.xe.com/
"ENLIST" - 3 color shirt design, AVAILABLE FOR SALE
PRICE :
110 euros
Paypal will take care of it automatically, but you can check here for currency conversion : http://www.xe.com/
"TEST SUBJECT" - 2 color shirt design, AVAILABLE FOR SALE
PRICE :
110 euros
Paypal will take care of it automatically, but you can check here for currency conversion : http://www.xe.com/
"CONGREGATION" - FULL COLOR shirt design, AVAILABLE FOR SALE
PRICE :
120 euros
Paypal will take care of it automatically, but you can check here for currency conversion : http://www.xe.com/
"THE CREATOR" - FULL COLOR shirt design, AVAILABLE FOR SALE
PRICE :
120 euros
Paypal will take care of it automatically, but you can check here for currency conversion : http://www.xe.com/
"SOROM" - 3 color shirt design, AVAILABLE FOR SALE
PRICE :
110 euros
Paypal will take care of it automatically, but you can check here for currency conversion : http://www.xe.com/
"TORSO" - 3 color shirt design, AVAILABLE FOR SALE
PRICE :
120 euros
Paypal will take care of it automatically, but you can check here for currency conversion : http://www.xe.com/
"SAW THAT COMING" - 2 color shirt design, AVAILABLE FOR SALE
PRICE :
110 euros
Paypal will take care of it automatically, but you can check here for currency conversion : http://www.xe.com/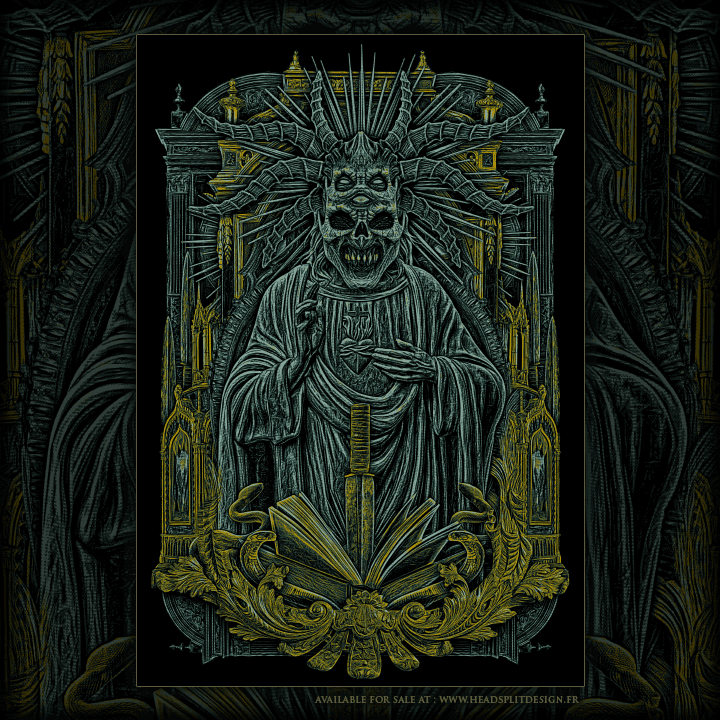 "BOOKSTAB" - 3 color shirt design, AVAILABLE FOR SALE
PRICE :
110 euros
Paypal will take care of it automatically, but you can check here for currency conversion : http://www.xe.com/
COVER ARTWORKS
Here are some cover artworks available for sale.
>> Please note that it does NOT include a full layout.
>> I can add your logo and album/EP title free of charge. 
>> Files will be sent in photoshop format.
>>I can include a full color shirt design version of a purchased artwork.
Please email me if you have any questions : headsplitdesign@gmail.com

>> If needed you can pay for a cover artwork in two times (only for artworks at 250 euros or more).
Payments should be exactly the same amount. Payments should be made no more than 2 months appart.
Email me first to discuss this : headsplitdesign@gmail.com
"VANISHEMENT OF SELF" COVER ARTWORK, AVAILABLE FOR SALE
Image size is 60x60cm - 300 dpi
PRICE :
250 euros
"ABSTRACT DECAY" COVER ARTWORK, AVAILABLE FOR SALE
Image size is 50x50cm - 300 dpi
PRICE :
205 euros
"EYESORE" COVER ARTWORK, AVAILABLE FOR SALE
Image size is 50x50cm - 300 dpi
PRICE :
250 euros
"TRANSFIGUREMENT" COVER ARTWORK, AVAILABLE FOR SALE
Image size is 50x50cm - 300 dpi
PRICE :
250 euros
"WALK IN OBEDIENCE" COVER ARTWORK, AVAILABLE FOR SALE
Image size is 50x50cm - 300 dpi (I got a red-ish version as well, email me if you want to check it)
PRICE :
225 euros
Paypal will take care of it automatically, but you can check here for currency conversion : http://www.xe.com/
"THE ANCIENT ONE" COVER ARTWORK, AVAILABLE FOR SALE
Image size is 50x50cm - 300 dpi
PRICE :
225 euros
Paypal will take care of it automatically, but you can check here for currency conversion : http://www.xe.com/
All rights reserved - Copyright © 2017 Headsplit Design